The Genshin Impact leaks don't stop coming as this time, we get a closer look at Dehya and Nilou.
Both of these characters' looks were already previously leaked alongside a handful of other Sumeru characters. This time, however, we get to see more of their details, and even some in-game animations.
Disclaimer: None of the information below were released through official means.
Dehya
For starters, Dehya is currently known to be a 4 star character that has a Pyro vision and wields a Claymore. As far as we know, she's planned for a release at Genshin Impact 3.1 or 3.2, so it's certainly no wonder that her model already looks polished. She uses the "tall lady" model, similar to Ningguang, Beidou, and a number of other currently playable characters.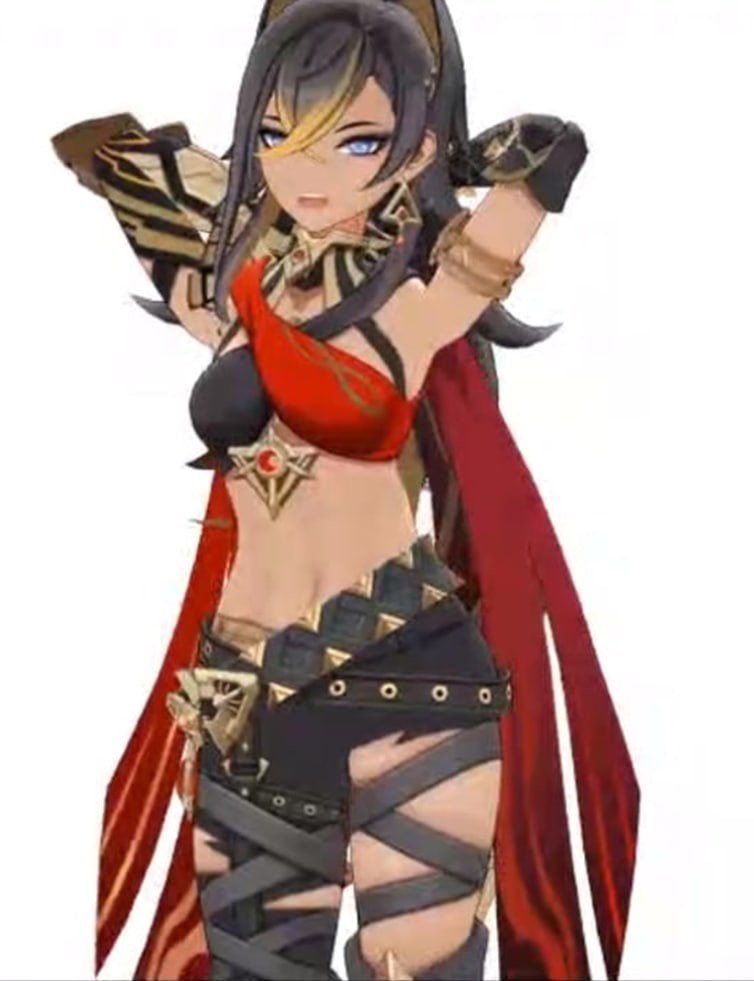 Dehya wears quite the revealing outfit, mainly black and red with golden accents. What seems to be her Pyro vision hangs just under her chest, over her bare mid-riff. Her hair is dark, and for some reason she has two pairs of ears – her "human" ears and the cat-like ears that are cut just out of frame.
Nilou
Nilou is currently predicted to be a 5 star character, wielding a Sword and a Hydro vision. She uses the "short girl" model, like Yanfei, Xinyan, and Sucrose. We have a little more information on Nilou than Dehya, as aside from the model we also get a sneak peek at some of her in-game animations and even her burst. Nilou is speculated to not be a healer, and instead her kit will revolve mainly around the Hydro + Dendro elemental reaction.
Nilou wears a more intricate outfit, akin to that of a priestess. Behind her Azhdaha-like horns, she has a headpiece that looks almost like a halo behind her. She has a couple of Hydro blue gems, one embedded in her necklace, and the other sitting on her waist.
An interesting details is the marking that she has on her back. Maybe this is something we learn more about as we play through her Story Quest?
Here we get a preview of Nilou's Burst Animation:
And some in-game animations:
---
For more Genshin Impact news, click here.